Story & Photos by Mindy Miller, Multimedia Writer
In December, the Appalachian Artisan Center (AAC) in Hindman announced it had received an ArtPlace America grant of over $400,000 for its "Culture of Recovery" project. The project was chosen out of nearly 1,000 applications and will receive funding through the 2017 National Creative Placemaking Fund, which invests money in community development projects where arts and culture work together to strengthen communities. The AAC will partner with KRCC's Hickory Hill Recovery Center, the Knott County Drug Court, and the Eastern Kentucky Certified Employment Program (EKCEP) to offer art and entrepreneurial workshops to participants with substance abuse disorders.
Sometimes, a big problem doesn't have a big, straightforward answer. There are times when it takes many smaller, creative ideas working together to bring about a viable solution.
The current opioid epidemic, which has been called *the deadliest drug crisis in U.S. history, has hit eastern Kentucky particularly hard. Addiction has ravaged whole families, affecting young and old, and cutting across socioeconomic lines, making no distinction between town and country.
"It takes an artist to think in terms of there has to be a way to help people recover doing the things that I love to do," said Christy Boyd, the director of fundraising and development at the Appalachian Artisan Center (AAC) in Hindman. "When you're an artist, your mind goes somewhere else, and you think outside the box. I think that's what's needed in finding solutions to this epidemic."
That's the philosophy that gave rise to the AAC's "Culture of Recovery" project. Tackling the issues of substance abuse and unemployment, the project aims to offer hope and a life rich in purpose and positive productivity to those battling drug addiction.
"It just clicked that we can, in one fell swoop, offer something that could be an alternative to drug use to individuals that could then take and use (the skills they've learned) to support themselves financially," said AAC Executive Director Jessica Evans.
When writing the grant (a task Evans pursued with the help of AAC Grant Writer Jill Hatch and Master Luthier Doug Naselroad), Evans and her staff looked at various entities within the community in Knott County that could benefit most from this unique partnership.
"I had recently been made aware of some of the community volunteerism that (Hickory Hill) was doing," Evans explained. "(I've seen) firsthand what can happen when individuals become engaged in their community."
Evans had also noticed that some artisan apprentices at the Center were in lifelong recovery and had not only gravitated toward craft arts as a way to express themselves, but also as a way to supplement their income.
"Once you have a criminal record, you are unemployable to many organizations," Evans noted. "When you're unemployable, you either continue to stay in a situation where you're dependent on government subsistence or you continue in illegal ways to try and make a living."
The "Culture of Recovery" project provides an alternative: while in recovery, a person could learn a trade that would enable them to go into business one day for themselves, doing something productive.
"There are so many guys that we have who are extremely artistic," said Jennifer Erwin, program director at Hickory Hill, who pushed for the men to take on more volunteer projects in the community. "They have all of these amazing skills that have been dulled by addiction. In working with the AAC, our guys would have the opportunity to go and have apprenticeships in fields that interest them."  
"That also ties in with something we want to do here at the Recovery Center, which is to give back to the community and rebuild broken relationships," she added.
*according to this article in The New York Times
---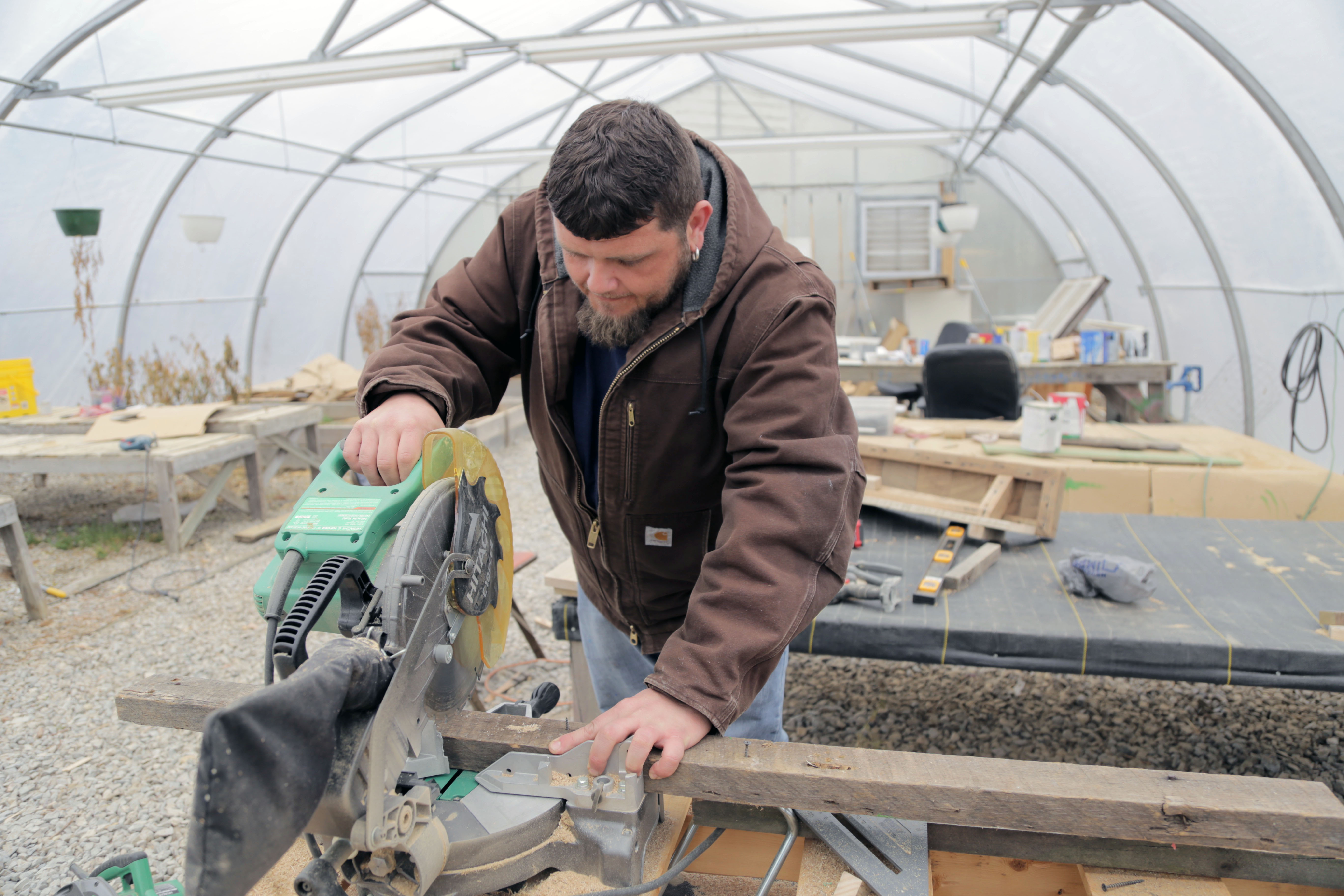 Program participants at Hickory Hill often put their artistic skills to use on various self-motivated projects. The men paint, draw, write, sing, and regularly show off their woodworking talents.
Getting Started
---
When the project goes into full swing in April, Evans said she hopes to have a full schedule of workshops for project participants. Drawing upon a network of over 300 artists, artisans will conduct workshops including learning the skills of luthiery (instrument building), blacksmithing, ceramics, printmaking, journal-making, and more.
Erwin and her staff will work to identify program participants to take part in the workshops. Since the men are only at the Recovery Center for a specific amount of time, they will most likely enter workshops for projects they can complete while in their program, but will have the option of continuing an apprenticeship with a mentor after leaving Hickory Hill.
Additionally, Evans said EKCEP will offer entrepreneurship courses at Hickory Hill so that the men can take the trade or craft they've learned and possibly open their own small business.
"I think this project will enhance the men's recovery process and their meaning and purpose in life. It may help some of them find things they're passionate about. They can start a project and see it through from start to finish, and there's a definite therapeutic value in that."HHRC Phase I Coordinator Kevin Deaton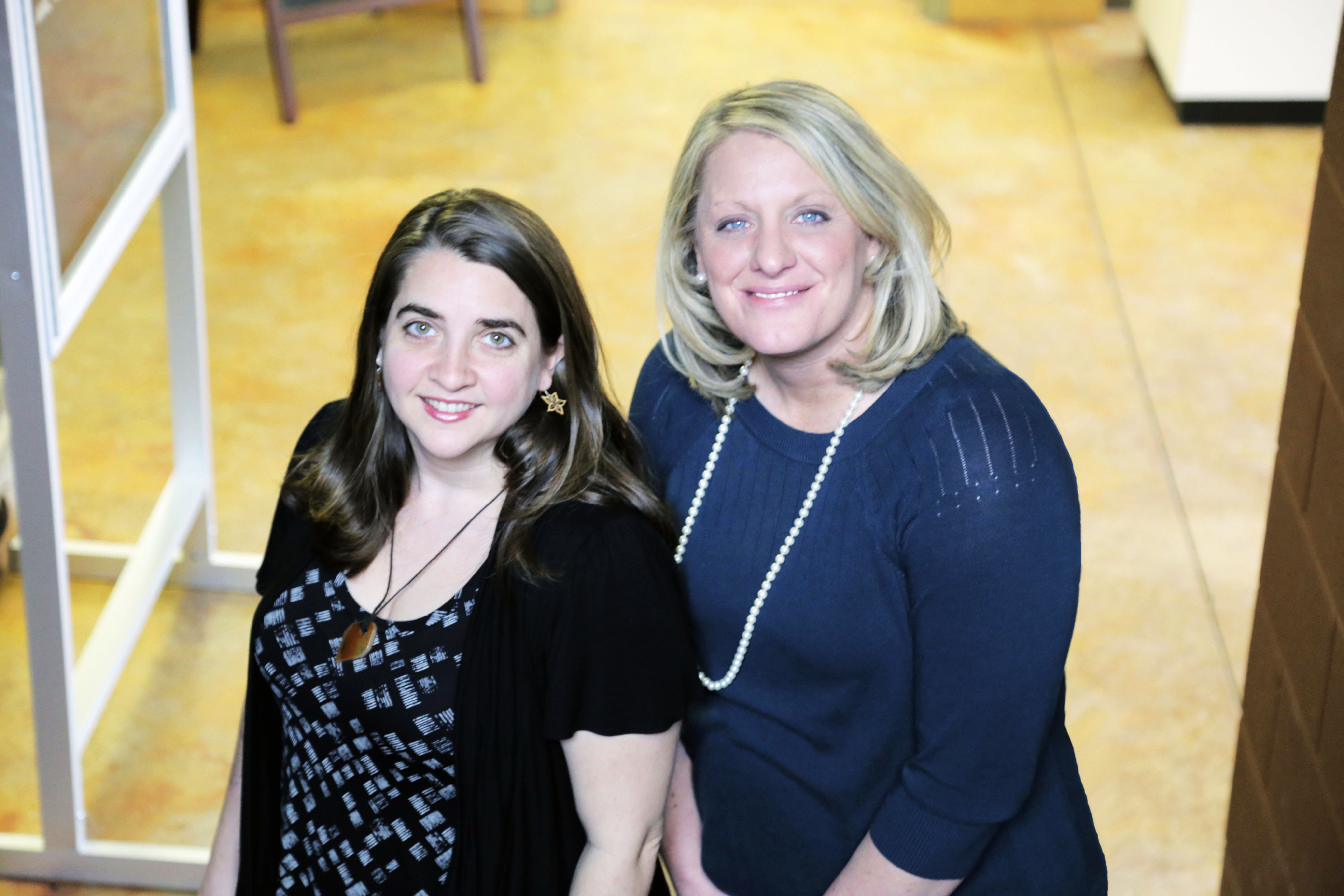 AAC Executive Director Jessica Evans (at left) with Hickory Hill Program Director Jennifer Erwin
Evans has also been working closely with KRCC Art Therapist Patricia Crone, who will serve as a consultant on the project.
"I love this program because of its unique initiatives that will yield creative as well as practical results," Crone said. "I've also loved working with Jessica (Evans) in developing my part in all this so far."
It's a big undertaking, but one that everyone involved with the project seems eager to handle.
"We have a lot of work ahead of us, but I believe strongly that it is meaningful work and that really makes all the difference in the world," Evans said. "I'm so happy to be embarking on this project. I'm hopeful that even just one person could benefit from us."
---
Click Here
To Learn More about Hickory Hill Recovery Center!