by Mindy Miller, KRCC Multimedia Writer
Peer Support Specialist James Lee Colwell sat down recently to share his powerful and profoundly moving recovery story. After over a decade in open addiction, Colwell received guidance and support at Hickory Hill Recovery Center and is now leading other men to claim lives in recovery in KRCC's New Directions program.
It all started when he was 13.
A new student at Perry County Central High School in Hazard, James Lee Colwell wasn't prepared for the size of the school or the number of students. He felt isolated and wanted to fit in, and that's when he made a choice that would impact the rest of his life.
"I fell into the wrong crowd and started smoking weed and drinking," he said. "When I did those things, I realized that my anxiety was gone, I could talk to people, and they all thought I was cool because I did it."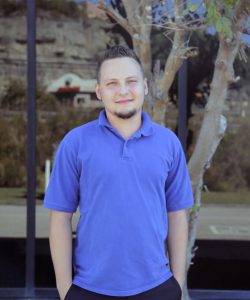 Now a peer support specialist in New Directions, a specialized substance abuse program for men at Kentucky River Community Care (KRCC), Colwell shares the story of the years he spent in open addiction with others battling the disease.
"I always had this void inside of me that I was looking to fill and that was the only way I knew how to do it," he said.
Before long, his life was spinning out of control, and he spent his teenage years and most of his twenties hooked on prescription drugs and meth.
"I was high when my son was born," Colwell said, noting that his girlfriend at that time refused to allow him to go home with her and the baby.
He tried to get clean, but nothing seemed to help – not counseling or maintenance programs or even Suboxone.
"And all of this time, I love this little boy more than anything, but it wasn't enough," he said.
That's when everything took a turn for the worst. The drug use escalated, and Colwell said he found himself robbing and stealing to feed his habit.
"It just spiraled out of control," he remembered. "I'd be up for eight or nine days at a time, having delusions and holed up in my trailer, never coming out unless I absolutely had to."
"In the back of my mind, I hoped that I would die, that I would do enough drugs to kill myself," he added. "I was just completely miserable."
"No one wakes up and says you know what? I think I'll be a junkie someday." – James Lee Colwell
His wake up call came when he was caught shoplifting in a local Walmart and found himself only allowed to see his son on supervised visits.
"I tried Suboxone to get off the Oxycontin, and the judge told me that once I completed the program, I could have unsupervised visits," Colwell said. "But until then, someone always had to be with me."
"I was trying, but it seemed to me that everybody was out to get me," he continued. "So, I just kept on living the same life."
"I felt like it wasn't fair," he noted. "I wanted to see my son by myself, but I knew that if I tried to do that, there goes everything."
But even then, Colwell had not hit his rock bottom. His drug use continued to get worse, and he contemplated taking his own life.
"Everybody's bottom is different," he said. "I think it's where you stop digging, because I've realized it can always get worse. That double life is kind of what got me to my rock bottom. Back then, I could make you think I was doing good. I'd go to a few college classes and be doing good, but then, off I'd go on a binge and burn it all down."
"I did that off and on for so long that I was just exhausted," he said.
A beautiful journey
Finally, Colwell opened up to his current girlfriend, confessing the truth about his drug addiction. She introduced him to Jennifer Erwin, then KRCC's Phase I Coordinator, who helped get him to Hickory Hill, a center for men over age 18 who are seeking recovery from alcohol and other drugs.
"The thing that helped me the most was being up there with 100 other guys, trying to find recovery," Colwell said.
One of his best friends at Hickory Hill told him a story about how he'd lost his children, but he reminded Colwell that things could be different for him, that he still had a chance.
"That was huge for me. That helped put it all into perspective," Colwell said. "All of the people who tried to help me – I thought they all had it out for me, but it was really me who had it out for me."
Now in recovery, Colwell has made the improbable journey from addict to peer support specialist, meaning that he helps other men who now walk the dark road he left behind.
"When you've been to the bottom, it's a lot easier to have compassion for someone who's still there," Colwell said. "Teaching them about recovery helps me, too, because it reminds me where I've been."
"James is an incredibly kind and compassionate man," said Linda Cornett, the clinician over New Directions. "He cares deeply for his clients and wants to use what he's learned to help them be successful in their own recovery. I'd be lost without him."
And Colwell wants to remind the parents and loved ones of addicts that solving all of their problems for them is not the answer.
"You can love someone to life or you can love them to death," he said. "Let them fall. Let them have some consequences. Until someone is ready, there's nothing you can do, and the worst thing you can do is keep fixing all of their mistakes."
Despite it all, Colwell said he wouldn't change anything about his life, because without those experiences, he wouldn't be able to help others as much as he can now.
"Recovery is possible. I'm living proof that it's possible," he said. "That's what it took for me to see that I could recover – meeting these amazing people who are in recovery, who have been to the lowest points but are now leading successful lives."
"There is hope," he continued. "Recovery has touched every aspect of my life and made it better."
For questions about KRCC's Hickory Hill Recovery Center, contact the Center by calling (606) 785-0141. To find out more about New Directions, contact clinician Linda Cornett at 606-436-5761, ext. 7217.