Pictured above: The old Bailey Center near Jackson, which houses KRCC's Haven House, Children's Wraparound Services, and its Solutions and Health & Wellness programs for Breathitt County.
KRCC's homeless shelter has been open for over a year. In this article, we check in on the program to see how it's grown.
The winter of 2017 saw the closing of  Corner Haven, a homeless shelter in Hazard that served most of the region. Seeing the level of need in the community, KRCC opened Haven House in Jackson, which continues to offer housing for people in need.
Since opening on January 26 of last year, Haven House has become an integral part of the community in Breathitt County.
"We went into it new and we're just getting it going from the ground up," said Deborah Brown, program facilitator at Haven House. "We've learned a lot over the last year."
"I think it's a great asset to the Jackson community," she continued. "I think it's probably one of the most successful homeless shelters in the area because of the services provided by KRCC."
"We're more than just a place to sleep. We're providing all of these services to help each client get back on their feet and be able to regain management of their lives so that they can live independently in the community."
---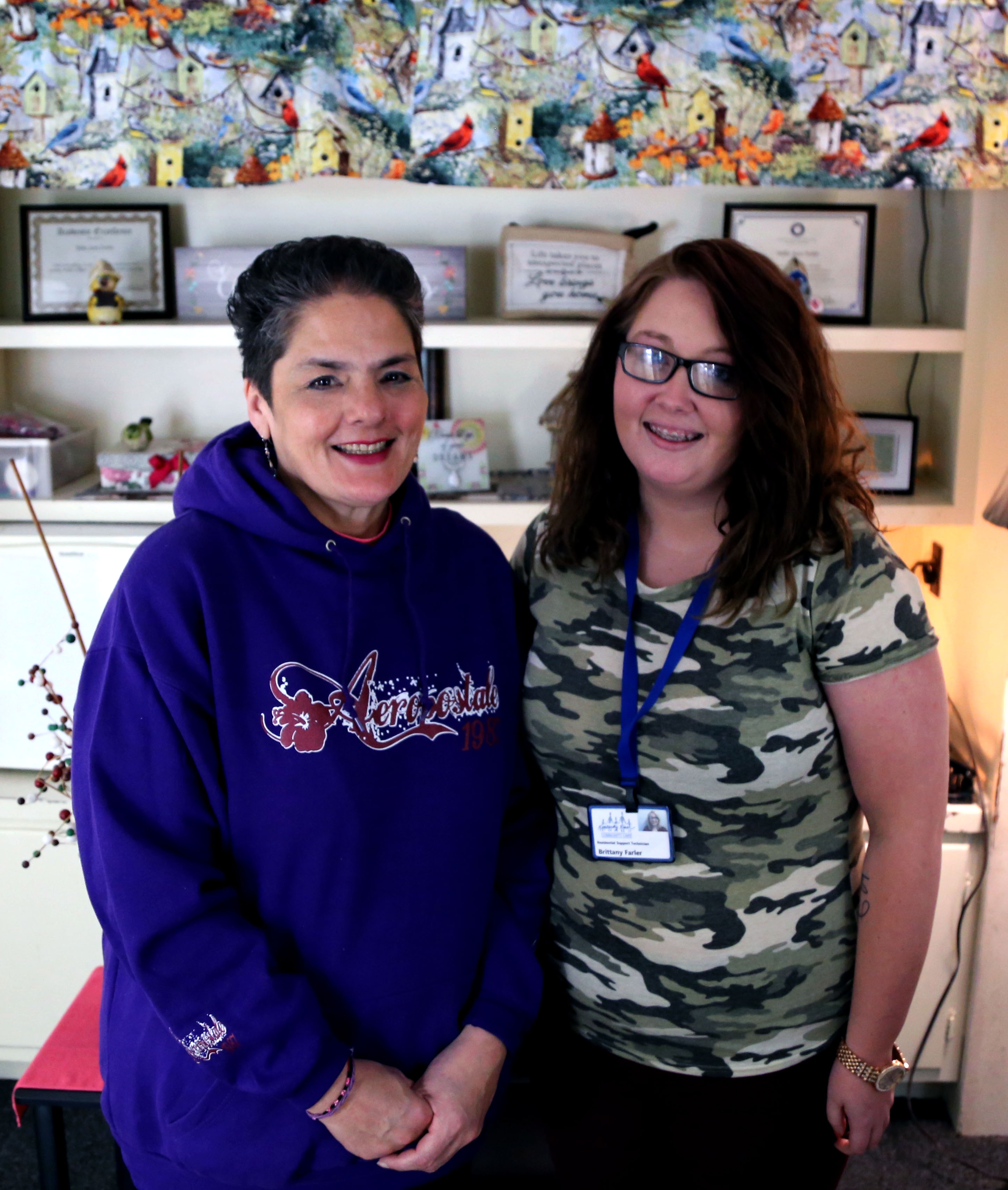 ---
Haven House has helped countless individuals, like Gail Grenke (pictured above at left), who was a homeless veteran. "Every employee we have is here for the right reason," Brown said. "It's all about heart and helping people. When our clients leave, we're happy for them, but we worry about their futures, too. When you've got that, that's like having family!"
Brown said the shelter is usually full in the winter months, and one thing that has surprised staff is the extraordinary response from the community.
"I've worked a lot with the donations and charitable giving part of our program, and we have some wonderful, loyal donors in Jackson and the surrounding area," Brown said.
Community members give cash donations when they can, but even more volunteer to provide meals at the shelter. Brown keeps a regularly updated calendar of these meals, which shows that all meals are covered for over a month in advance.
In addition to providing food and temporary housing, staff at the shelter work to meet each client's individual needs - from permanent housing to employment and mental health assistance.
"Haven House is an opportunity for KRCC to provide a full array of services to homeless individuals who have typically not received outpatient services on a consistent basis. KRCC staff provides needed supportive services to help the homeless in our area move toward successful independent living in the community."Mike Kadish, Director of Adult Services
"We have one former client who's in college now," Brown noted. "We have a lot of clients who have received housing, obtained employment, or have been placed in assisted living conditions. That's the thing about Haven House - every need is met!"
Going forward, this year, staff would like to give food boxes and donated items to departing clients as they begin a new life outside of the shelter. The plan is to begin organizing those items for distribution to clients who leave for permanent housing.